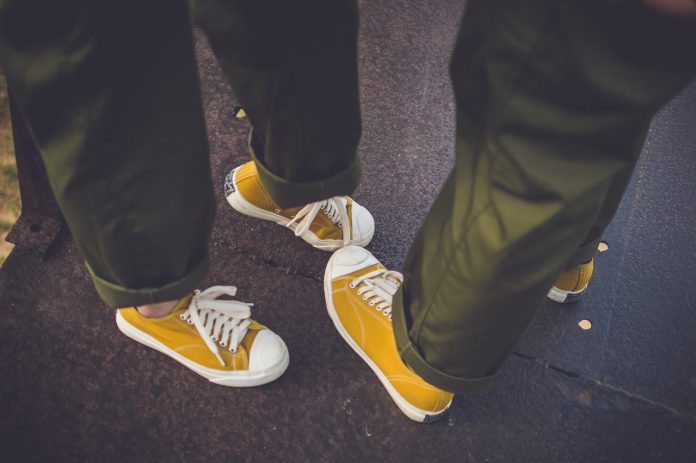 The white sneaker trend has quickly made its way from the street to meeting rooms, seen on the feet of everyone from pop stars to presidents. Today, sneakers can be worn with formal clothes, inserting a surprising twist to simplistic or basic silhouettes. They can be worn amazingly with suits since sneakers deliver a specific touch of youthfulness to looks, allowing colour and edge to the simplest of clothing.
Dressing a sneaker in formal wear has the same rules with most trends. When done right, the look is edgy and up to date, but can look thoughtless and unfinished when done wrong. We have to admit that keeping a classic and stylish blend of the sneaker trend can be tricky but don't worry because we've compiled a reliable guide on how to wear formal clothes with sneakers without looking unkempt.
1. Simplicity is Best
If you feel like you can't pull off the whole look, formal looks would look amazing if you keep it simple with a basic sneaker. This will give some cool edge to your formal wear without the fear of looking too loud. A classic black and navy pairs can look great in keeping a formality to looks without a complete disregard for dress codes.
2. Fit and Perfect Tailoring
Before you start thinking of wearing sneakers with formal attire, you want to make sure that every inch of your clothes is tailored to perfection. Don't try to hide it, ensure that pants fit well and it's not loose, your blazers should not take off your natural shape. So if you want to look great, a fitted, slimmer silhouette will match well with complementing sneaker giving a sleeker, streamlined aesthetic which interprets a trendy rather than tactless. Always watch out for your suit cutting because this is the biggest mistake men make when they try to match sneakers to suits.
3. It's All About the Right Proportions
Take into consideration the proportions of your overall look such as the type of sneaker you should pair with your formal attire. It's a great idea to try out various styles and seeing how each style looks with clothing is important. If you're wearing a bold blazer, you can balance it by wearing turtleneck tops and dress up the minimalist outfits with more vivid and distinct coloured trainers. Stay away from slim soles to avoid an under-dressed and unequal aesthetic, and go for thicker styles that register bulky.
4. Explore Various Materials
Probably the easiest and fastest way to dress up formal attire when wearing sneakers is finding sneakers that come in more luxe materials to formalise the look. A great example we can give you is leather trainers which insert an edge to formal clothes. Although canvas styles may be limiting, it should not be underestimated. You can opt for Converse and Vans since these brands simply come in a variety of materials including velvet, suede, and leather since they come in simplistic styles and are more versatile for formal dressing.
5. Don't Forget to Groom Yourself
Now that you know how to dress in suits and sneakers, don't overlook the importance of hair and grooming since it can help with the formality of sneakers. If you are well-styled, you will dress up a formal attire when experimenting with the trend. You will have a more put-together look and a more polished aesthetic. Opt for a sleek blow-dry and a toss of matte hair mousse for a fine look that's classic with a fun youthful side.