What do you think what's most comfortable and popular in Indian traditional wear? Of course, the trendy and stylish salwar suit that can be worn comfortably anytime and anywhere with some stunning accessories. The classic and salwar kameez can never go wrong when it comes to traditional wear as anyone can wear it comfortably whether it's a middle-aged women or young college-going girl. This is surely a versatile attire made for every woman because it comes with different styles, designs and colour variants and that's the major reason that Salwar Kameez are trendy and popular among ladies of all age group.
Look at the 8 distinct styles of salwar suits that are popular in women's fashion!
1. Anarkali Suit
The flared and sterling anarkali suit along with the pairing of churidar is all-time favourite for women to wear it on wedding occasions and festivals. Nowadays, the designers are crafting the anarkali suits with some fusions and latest designing patterns to meet the requirements of the young generation as well. Of course, in this century, you won't wear that old-school style anarkali suit, right? S, it becomes essential to create fusions with the modern style patterns.
2. Punjabi Suit
The Punjabi style suits are authentic and classic in design and style. The irresistible design and style of the Punjabi suits can't be matched with any other outfit. Basically, Punjabi suits as short kameez or tunic and then it is teamed up with dhoti pants, or pleated salwar or Patiala salwar. To accentuate your curves in traditional Indian wear, you can definitely pick up this Punjabi suit along with the pairing of a stunning salwar to look super sassy.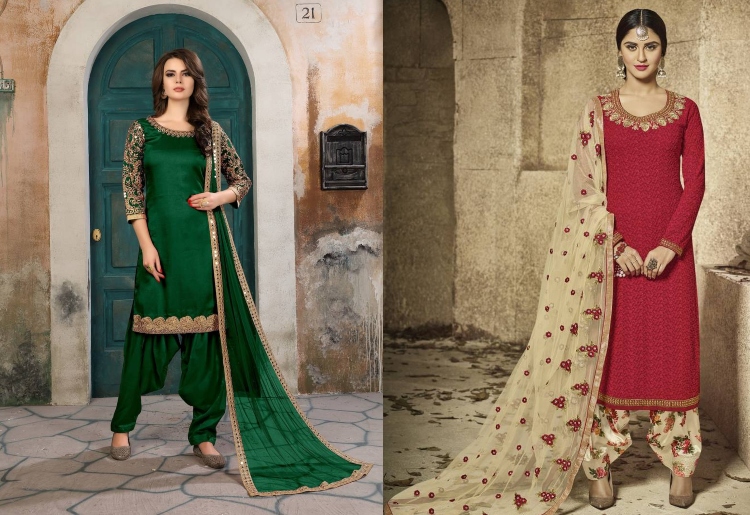 3. Pakistani Style Suit
As its name suggests, it's a Pakistani style salwar suit, which reflects the tradition and culture of Pakistan. From designing to embroidery work, Pakistani style salwar kameez is surely an elegant and sophisticated piece of outfit that every girl must own in her wardrobe collection. The straight cut long kameez in pairing with the straight pants or churidar will look absolutely hot and gorgeous. The Pakistani suits are made up of different designs and dress material fabrics. Even for a special occasion, you can choose to flaunt your outfit and personality in this Pakistani style salwar suit in bright colour combination.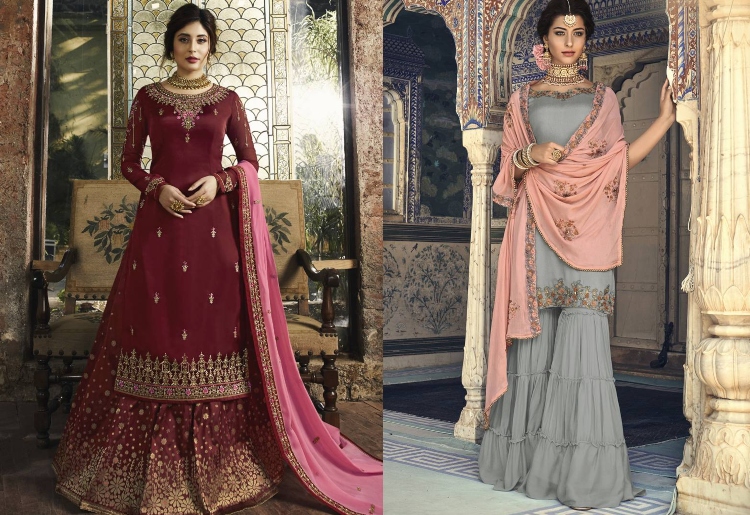 4. Palazzo Suit
Is there any introduction needed for this style of salwar suit, ladies? Well, the palazzo style salwar suits are quite popular and trendy these days among the women fashion and nowadays, they are coming u in some unique designs. The long, straight cut style tunic when teamed up with the gorgeous and flared style palazzo, then t will definitely look wonderful. Whether it's a formal or informal occasion, palazzo suits are perfect for both.
5. Straight Cut Salwar Suit
Straight cut salwar suit is what you need to add sheer elegance to your traditional Indian wear outfits. The minimalistic and sober design of the straight cut salwar kameez is what attracts the young ladies. Moreover, the best part is that it is available in bright as well as pastel colours that definitely fulfil the needs of the young generation girls who prefer light shades in traditional wear. For parties, festivals and special occasions, you can plan to wear this straight cut salwar suit without even thinking twice.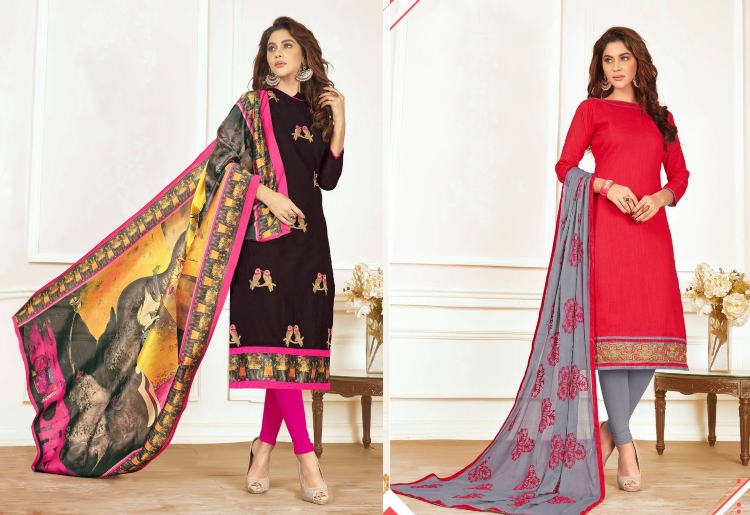 6. Pant Style Suit
Presently, there is another trend in salwar suits that's making everyone go crazy i.e. pant style salwar suit. To look that chic, boss lady either on a party or at formal event, you leave a long-lasting impression on everyone in this pant style salwar suit. Of course, it is not at all boring and ordinary in style, but something exceptional that you can easily flaunt everywhere. The pant style bottom wear is usually up to the ankle length and thus, adds elegance to your traditional Indian wear. Get rid of those boring styles of salwar kameez and get this stylish piece of apparel for your wardrobe collection.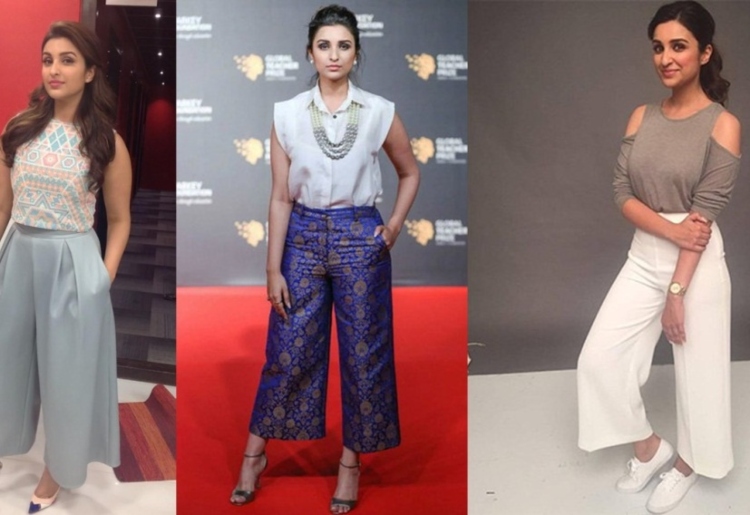 7. Sharara Suit
Here comes another liked and loved piece of apparel by women in India i.e. Sharara suit. The length of the sharara suit kameez is usually short or sometimes up to the knee and it is best paired with the super comfortable sharara bottom wear that lookS similar to palazzo but are wider and more flared just like a skirt.
8. Churidar Salwar Suit
And, the last one in the list of the popular and trendy salwar suits is Churidar suit, which gives that classic look always. The kameez of the churidar salwar suit is at knee length along with that perfect fitting and then it is teamed up with the narrow style bottom wear called as Churidar.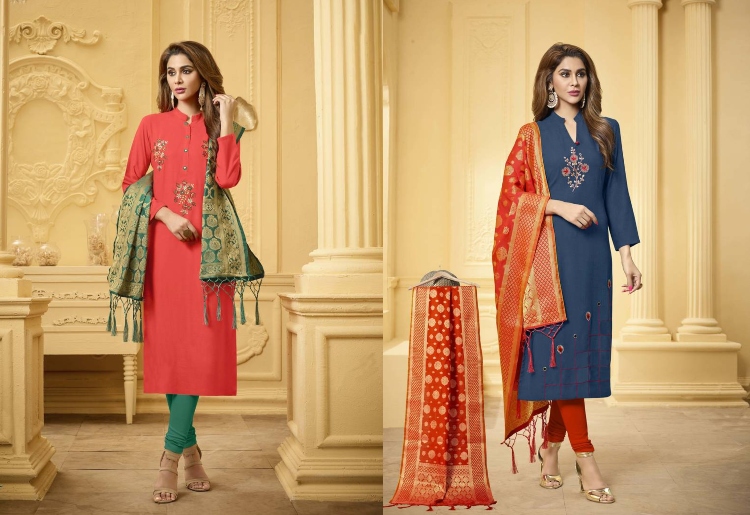 To conclude, these are the 8 distinct styles of popular and latest salwar suit designs that you must know!